Expansion
In 2013 M.video opened 40 new stores and launched the internet sales capabilities in 35 new cities enabling our Omni proposition to be available in the largest 52 cities where we have presence in Russia. We also closed 3 stores due to low efficiency and relocation of some of the existing outlets. We continued expansion to 17 new cities. The total number of our stores by the end of the year amounted to 333 in 144 Russian cities.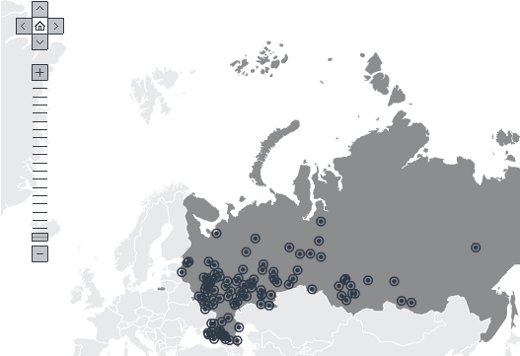 open interactive world map
| M.video: cities of operation | Number of Stores |
| --- | --- |
| Moscow | 45 |
| Saint-Petersburg | 15 |
| N.Novgorod | 7 |
| Volgograd, Yekaterinburg, Krasnodar, Novosibirsk, Rostov-on-Don | 6 |
| Kazan, Samara, Sochi, Tyumen, Ufa, Chelyabinsk | 5 |
| Orenburg, Omsk, Perm, Yaroslavl | 4 |
| Astrakhan, Barnaul, Vologda, Voronezh, Irkutsk, Krasnoyarsk, Lipetsk, Makhachkala, Nizhnevartovsk, Penza, Saratov, Stavropol, Surgut, Taganrog, Tolyatti, Ulyanovsk | 3 |
| Arkhangelsk, Balakovo, Bryansk, Vladimir, Vladikavkaz, Zelenograd, Ivanovo, Yoshkar-Ola, Kaluga, Kemerovo, Kirov, Kursk, Nalchik, Novokuznetsk, Novorossyisk, Orel, Orsk, Pyatigorsk, Ryazan, Saransk, Stary Oskol, Syktyvkar, Tomsk, Tula, Ulan-Ude, Cheboksary, Cherepovets, Cherkessk, Yakutsk | 2 |
| Almetyevsk, Anapa, Angarsk, Apatity, Arzamas, Belgorod, Berezniki, Biysk, Bratsk, Vladikavkaz, Volgodonsk, Volzhsky, Gubkin, Derbent, Dmitrovgrad, Dmitrov, Domodedovo, Dubna, Essentuki, Zheleznogorsk, Zhukovskiy, Ivanteevka, Kaliningrad, Kamyshin, Kislovodsk, Kolomna, Kolpino, Kostroma, Krasnoturinsk, Kropotkin, Kurgan, Lazarevskoe, Lyantor, Magnitogorsk, Maykop, Mezhdurechensk, Mineralnye vody, Murmansk, Naberezhnye Chelny, Nevinnomyssk, Neftekamsk, Nefteyugansk, Nizhekamsk, Nizhniy Tagil, Novotroitsk, Novocherkassk, Novy Urengoi, Noginsk, Noyabrsk, Nyagan, Obninsk, Odintsovo, Oktyabrsky, Orekhovo-Zuevo, Pervouralsk, Petrozavodsk, Pskov, Revda, Salavat, Sarov, Severodvinsk, Seversk, Sergiev Posad, Serpukhov, Smolensk, Sterlitamak, Syzran, Tver, Tobolsk, Tuapse, Ukhta, Khanty-Mansiysk, Chekhov, Shakhty, Shchelkovo, Shcherbinka, Elektrostal, Engels | 1 |
| Total number of cities: 144 | Total number of stores: 333 |
The selling space of M.video stores amounted to 582,500 sq. m while the total space amounted to 785,000 sq. m at the year end, demonstrating a 8.5% increase compared to 2012 results. Sales per sq. m of selling space amounted to 311,000 RUB (including VAT) in 2013.
Number of stores and growth in store area in 2013
In the end of 2011 we launched a new store concept for our 2,000 sq. m stores. The new concept is designed around simplification of in-store navigation while showcasing the latest technologies and promoting our brand. The stores with the new concept help to improve the already favorable customers' reaction to the M.video shopping experience.
All new stores in 2013 were opened in the new concept; we also reconstructed 15 old stores and adapted them to the new concept. The number of stores in the new concept reached 108 outlets or 32% of the portfolio. We will continue to roll this concept out to our new and reconstructed stores in the future.
In 2013 M.video continued to implement its strategy of increasing the density of operations to get economies of scale on advertising and supply chain costs and to increase our market share in those cities. The number of cities with three and more stores increased to 34, including all biggest cities of Russia.
Our store profile includes 292 of stores in shopping malls and 41 stand-alone destinations. We lease 91% of stores while own 9% of stores.
In 2013 we saw a c.5% average increase in the ruble based rent rates for the new openings.
Rent rates dynamics for the new stores opened in Q4 2007-2013
The average time it takes us to open a store is 2-4 months, and we invest 46 million rubles (without VAT) in each store on fixtures, leasehold improvements and other pre-opening costs. The Company opens its stores both in small and big cities of Russia concentrating on cities with more than 100,000 population.
Two years ago we piloted a new format of 1,000 square meters: by the end of 2013 M.video had twenty eight of 1,000 sq. m stores under its banner in smaller cities and high density areas. Reduced selling space allows us to use the same metrics which we apply to a standard 2,000 sq. m store but having advantages on the capital expenditure and rents. We display just the core range of main categories in these stores but offer the full range of promo products and extended metrics available by order, including online ordering. The net benefits of the new format introduction are to be more scrutinized but we are enthusiastic on the potential synergies it brings to our Omni-Channel approach.