To our shareholders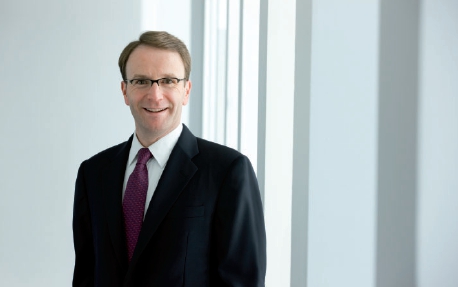 I am pleased to report record results for sales and earnings for 2010. We increased Group sales in constant currency by 8 percent to €16.0 billion. Earnings increased even more strongly by 23 percent in constant currency to €660 million before special items. The EBIT margin is at an all-time high of 15.1 percent. All of our business segments achieved or exceeded their financial targets.
We also exceeded our "15/15" midterm goal, a 2010 target announced in February 2007 with sales of €15 billion and an EBIT margin of 15 percent. This achievement is all the more notable given the economic crisis.
I sincerely thank the Group's associates for their outstanding contributions and untiring commitment toward achieving our targets.
2010 was not just a year of excellent operating results. We initiated important structural changes by creating a single share class. This in combination with a change in legal form to a partnership limited by shares (KGaA) enhances the attractiveness of our stock, increases trading liquidity, and improves our access to the equity capital market. Our share price performance following the announcement of this change and the exceptionally high approval rate at the annual general meeting in May 2010 demonstrate that shareholders see this as a positive move. I am pleased that we were able to successfully implement these resolutions.
What are our goals for the future? Looking ahead, the global economic environment will remain challenging and cost-containment efforts in the health care sector will continue. We must respond with both medical innovations for our patients and providers and continued cost and efficiency measures. We remain focused on strong organic growth in all our business segments as the basis for our success. In addition, we intend to pursue small and mid-sized acquisition opportunities to support our organic growth.
Below are key components of our business segments' agendas for 2011:
In 2011, Fresenius Medical Care faces a switch to a bundled reimbursement system in its important U.S. market. As an integrated company offering both dialysis products and dialysis services from a single source, Fresenius Medical Care is well positioned to compete in this new system. I see high growth potential for Fresenius Medical Care in the Asia-Pacific region and Eastern Europe. International business expansion is therefore a key priority in the coming years.
The focus at Fresenius Kabi is on launching new products and further international roll-out of the existing portfolio. We will continue to place special emphasis on product quality and reliability. These proved to be especially important success factors in 2010, when competitors experienced numerous supply constraints in the U.S. IV drug market. Fresenius Kabi achieved above-average growth by being a reliable partner with top-quality products, and was able to alleviate market drug supply shortages.
Fresenius Helios is consistently working to further advance quality awareness at its clinics and to provide patients with best-in-class medicine. The company has launched numerous initiatives designed to improve quality and to prevent medical errors. Although hospital privatization activity in Germany was modest over the last two years, we expect the market to pick up again midterm. Consequently, Fresenius Helios will continue to grow through acquisitions.
Fresenius Vamed has an excellent foundation for further growth, thanks to its high order backlog. With its competence in both project development and out-sourcing services, Fresenius Vamed can successfully support health care facilities over the course of their life cycles. Key markets will continue to be Europe, the Asia-Pacific region and Africa.
Through our global presence in growth markets, our medical and technological competence, and our flexible, decentralized organizational structure, we are well positioned for future success. We face 2011 with confidence and expect to increase sales in constant currency by ≥7 percent and net income by 8 to 12 percent.
We are grateful for your trust. Looking ahead, we will continue to strive to achieve the best for our patients and sustainably increase the value of our company.
Dr. Ulf M. Schneider
Chairman of the Management Board
QUICKFINDER
My Annual report
IR-Services