Development of other major items in the statement of income
Group gross profit rose to €5,326 million, exceeding the €4,636 million in 2009 by 15% (10% in constant currency). We improved the gross margin to 33.3% (2009: 32.7%). The cost of sales rose by 12% to €10,646 million (2009: €9,528 million). Cost of sales as a percentage of Group sales decreased from 67.3% in 2009 to 66.7%. Selling, general, and administrative expenses consisted primarily of personnel costs, marketing and distribution costs, and depreciation and amortization. These expenses rose by 14% to €2,664 million (2009: €2,342 million). Their ratio as a percentage of Group sales was 16.7% (2009: 16.5%). Depreciation and amortization was €639 million (2009: €562 million). Their ratio as a percentage of sales was 4.0% in 2010 (2009: 4.0%).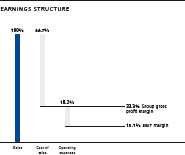 enlarge
The chart besides shows the earnings structure in 2010.
Group net interest was -€566 million (2009: -€580 million). Lower average interest rates on liabilities had a positive effect, negative currency effects impacted Group net interest due to the strength of the U.S. dollar.


The other financial result of -€66 million includes the valuation changes of the fair redemption value of the Mandatory Exchangeable Bonds (MEB) of -€98 million and the Contingent Value Rights (CVR) of €32 million. Both are non-cash items.
The adjusted Group tax rate (adjusted for the effects of the mark-to-market accounting of MEB and CVR) rose to 32.9% (2009: 31.4%; the revaluation of a tax claim at Fresenius Medical Care had a positive effect).
Noncontrolling interest rose to €583 million from €497 million in 2009 mainly due to the good earnings performance at Fresenius Medical Care. Of this, 93% was attributable to the noncontrolling interest in Fresenius Medical Care.
The table below shows the profit margin progress.
in %
2010
2009
20082
2007
2006
1

Return on sales adjusted for the effects of mark-to-market accounting of the Mandatory Exchangeable Bonds (MEB) and Contingent Value Rights (CVR).

2

2008 adjusted for special items relating to the APP acquisition

EBITDA margin
19.1
18.5
17.9
17.9
17.1
EBIT margin
15.1
14.5
14.0
14.2
13.4
Return on sales (before taxes and noncontrolling interest)
11.61
10.41
10.5
10.9
9.7
QUICKFINDER
My Annual report
IR-Services