Cash flow analysis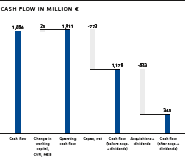 enlarge
The cash flow statement shows a very positive development, as can be seen from the chart. Cash flow increased by 19% to €1,886 million in 2010 (2009: €1,579 million). This was mainly due to the Group's excellent earnings1 performance. The change in working capital in 2010 was -€13 million (2009: -€46 million).
CASH FLOW STATEMENT (SUMMARY)
€ in millions
2010
2009
1 Net income attributable to Fresenius SE & Co. KGaA and noncontrolling interest
The detailed cash flow statement is shown in the consolidated financial statements.
Net income1
1,205
991
Depreciation and amortization
639
562
Change in pension provisions
42
26
Cash flow
1,886
1,579
Change in working capital
-13
-46
Change in mark-to-market valuation of the MEB and CVR
38
20
Operating cash flow
1,911
1,553
Property, plant and equipment
-754
-677
Proceeds from the sale of property, plant and equipment
21
15
Cash flow before acquisitions and dividends
1,178
891
Cash used for acquisitions/proceeds from disposals
-504
-227
Dividends
-329
-275
Cash flow after acquisitions and dividends
345
389
Cash provided by/used for financing activities (without dividends paid)
-23
-336
Effect of exchange rate changes on cash and cash equivalents
27
-3
Change in cash and cash equivalents
349
50
Operating cash flow increased by 23% to €1,911 million in 2010 (2009: €1,553 million). The cash flow margin was 12.0%, which was well above the level of the previous year (2009: 11.0%). Operating cash flow was more than sufficient to meet all the financing needs for investing activities excluding acquisitions, whereby cash used for capital expenditure was €754 million, and proceeds from the sale of property, plant and equipment were €21 million (2009: €677 million and €15 million, respectively).
Cash flow before acquisitions and dividends rose by 32% to €1,178 million (2009: €891 million). This was sufficient to fully finance the net acquisitions of €504 million and the Group dividends of €329 million. Group dividends consisted of dividend payments of €122 million to the shareholders of Fresenius SE & Co. KGaA, payments of €183 million by Fresenius Medical Care to its shareholders, and dividends paid to third parties of €89 million. These payments were offset by the dividend of €65 million which the former Fresenius SE received as a shareholder of Fresenius Medical Care.
The cash outflow from financing activities (without dividend payments) was €23 million (2009: €336 million). In addition to the expenditures on acquisitions, Group dividend payments resulted in a cash outflow of €329 million in 2010 (2009: €275 million). Cash and cash equivalents as of December 31, 2010 were €769 million (December 31, 2009: €420 million).

1 Net income attributable to Fresenius SE & Co. KGaA
QUICKFINDER
Internal related Links
My Annual report
IR-Services